Illinois Amish Country
Sponsored Links
Arthur..."The Heart of the Illinois Amish Country"
Arthur, Illinois is a town of 2,200 residents located 10 miles west of Interstate 57 off exit 203 in East Central Illinois. The friendly, down-home atmosphere welcomes hundreds of thousands of visitors every year and helps to back up the town motto, "You're a stranger only once." Arthur is in the Heart of Illinois Amish Country, with more than 1,000 Amish families living in the countryside around Arthur.
Arthur's surrounding Amish settlement, was established in 1865 by a handful of families, and has grown to over 4,500 m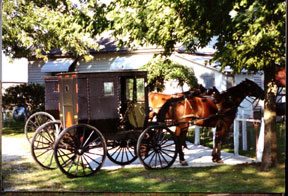 embers. The Amish farm the rich land of the Arthur area with teams of six to eight horses, and operate numerous "country shops." The horse-drawn, black Amish buggies are a common sight around Arthur and Amish country.
In Arthur, the downtown business district is filled with a variety of gift shops, fine clothing stores, unique craft shops, furniture shops and several restaurants. You can easily spend half a day or more wandering the shops and still have a need to return.
Industry also thrives in the area. Businesses and business-people find Arthur an attractive place to establish a presence. With a strong work force and a healthy economic climate, the Amish country is a great place to live and a great place to work!
If you would like information regarding Arthur or would like information about touring the Illinois Amish area please feel free to contact us.