CIBR-BBQ
Central Illinois Bragging Rights Competition KCBS BBQ
            Oct 9-10, 2015 in Downtown Arthur
                            CIBR-BBQ
Every October top quality competition BBQ teams (65 teams last year)  from all over the Midwest gathered in Arthur to compete for the Bragging Rights of Central Illinois BBQ.  Teams from as far away as Florida, North Dakota, and Michigan made the trek for this high level competition. Included were a good number of the Kansas City Barbeque Society's (KCBS) top ten teams.
So it goes with out saying that the competition was smokin' last year. An early Friday sauce, sausage, dessert and side dish competition amazed the judges who admittedly were expecting less exotic entries. But the cooks showed their stuff with entries that would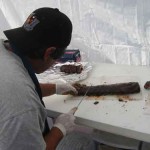 impress any food critic and many that were worthy of a food magazine photo shoot…
With only minor problems, the Saturday contest evolved as thousands of spectators gathered to smell the smoke and eat the ribs and 'Q offered by the vendors. Bluegrass music from the Chet Kingery Jam all over town  kept every body entertained.  And a lot of happy, well fed Central Illinoisans went home with a greasy smile on their faces.
Our CIBR-BBQ event is designed with Kansas City BBQ Society competition teams, Backyard Amateur competition teams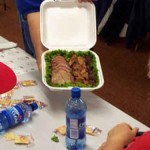 , and the general public who want to see big time competition or just eat great BBQ in mind, so there is something for everybody!
See our Official CIBR-BBQ website for information on this years event already in planning. We're  KCBS certified, doing all four standard categories and looking at cash prizes again in excess of $14,000 and a whole lot more fun. If you want to try your hand at competition BBQ or just want to scoop up some bragging rights, cash prizes and trophies, mark your calendars for the Central Illinois bragging Rights BBQ Competition this October,  in Arthur!
We have opportunities for vending at this event. See our Vendor Information Pages AND the CIBR-BBQ website for details