Amish Country Events
Sponsored Links
Repeating Craft / Flea / or Antique Markets
Third Saturday Downtown Arthur Market

On the third Saturday of each month, 10-20 crafters, some antiques, bakers, and who knows who, gather in downtown Arthur to display and sell their wares. Indoors year around, and many outdoor vendors unless it is actually snowing ( and there have even been a few then,) the market results in an ever changing selection of unique items that visitors and locals alike really enjoy.
Easily located in downtown Arthur, just behind (to the west) of the Gazebo on the corner of Progress and Vine Streets, be sure to stop by if you are in the area on the 3rd Saturday of any month!
Market hours run from about 8:30 to 3pm every month.
If you are interested in participating in our 3rd Saturday Markets as a vendor please visit the Gazebo Annex homepage for vendor applications and contact info. We'd love to have you!
As with the other special events in the Arthur Area- check our online calendar for the most up-to-date information available!
The Gathering on the Prairie & The Homesteaders on the Prairie Antique weekends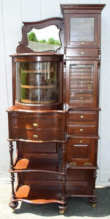 On the FIRST Weekend of March and the SECOND weekend of November, Antiques and primitives dealers gather in Arthur at the fairgrounds for a special show. It is safe to say that this show is the finest country antiques show in downstate Illinois. High quality vendors and high quality, first class items attract people, literally, from all over the country, to Arthur for this show. Dealers specializing in early Americana Country Primitives, Country Furniture, Kitchen Antiques, Early Lighting, Textiles, Stoneware, Tin ware, Folk Art, Baskets, woodenware & so much more fill the buildings.
Early Pickin's are available on Friday evening from 5 to 8pm with the main event being on Saturday from 9am to 3pm
Usually this weekend brings 100 or more, top quality, vendors into multiple antique venues in and around Arthur