Amish Country Events
Sponsored Links
Dicks Pumpkin House
Arthur's Pumpkin House
The Third Annual Arthur Pumpkin House will be presented again this year at 235 S. Vine Street in downtown Arthur.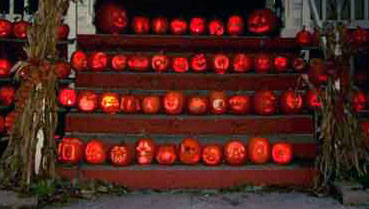 Nearly 300 carved pumpkins will be on display for all to see from October 22nd through October 31st.
During the week of October 19th pumpkins will be carved by school children, business people, and various volunteers from Arthur and surrounding communities. The pumpkins come from the Great Pumpkin Patch and other area sources and distributed to willing gutters and carvers during the week and returned to be displayed for the week.
A Grand Lighting Ceremony will be held this year for the first time at 6pm on October 22nd. The Pumpkins House will be lit nightly between October 22nd and October 31st.
The house is sponsored by Dicks Pharmacy, who originally brought the idea back to this area after seeing a similar display in Kenova, West Virginia. That pumpkin house is also sponsored by a local pharmacist at his home along the Ohio River.
Kids of all ages will enjoy looking at the faces and various carvings that await them at the pumpkin house in downtown Arthur. Arthur has taken great pride in the house and each year the display has grown and become better.
Get your picture taken with nearly 300 pumpkin faces. Not all of them are guaranteed to be smiling, but your kids will be.
More pumpkins are planed for this year.
As with the other special events in the Arthur Area- check our online calendar for the most up-to-date information available!